Sensor Integrity
George uses the highest-quality GPS, C2 Radio, airspeed, Detect and Avoid (DAA), and military-grade geomagnetic sensors for unprecedented accuracy and platform integrity.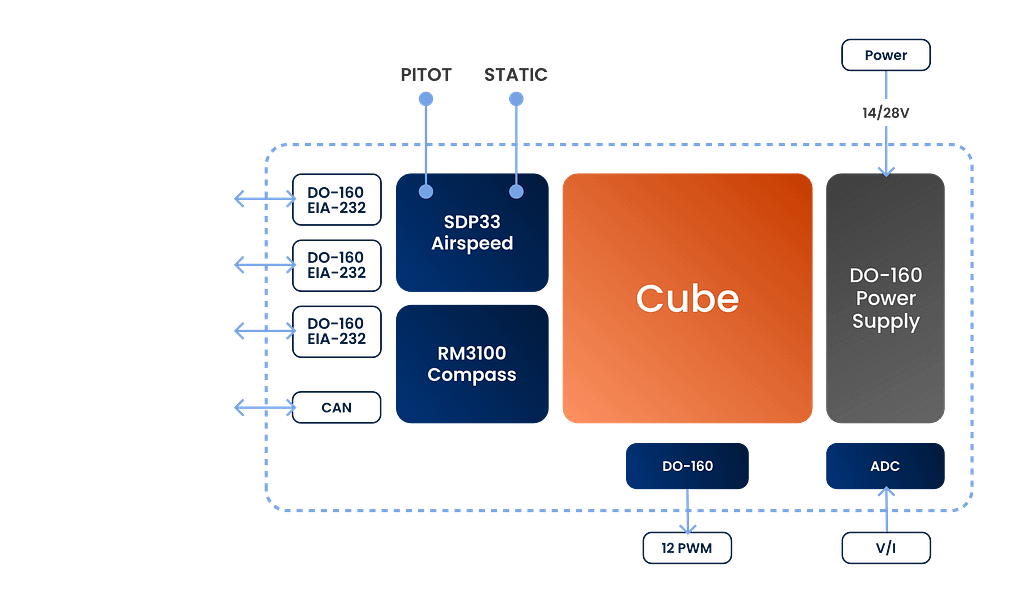 Built on a familiar architecture
George is built on the trusted and proven CubePilot autopilot. Migrate your existing Ardupilot or PX4 software and configuration to George's robust certifiable platform.
Lightweight and
low power consumption
UAS have limited energy resources to support your mission. George is engineered specifically to minimize size, weight, and power consumption for longer flight times and larger payloads.
Certifiable and tested to aviation standards
We've brought the same rigorous safety standards to UAS that have ensured aviation as the safest form of transportation. George is engineered to DO-160G and MIL-810H environmental standards, and designed to meet DO-254 DAL C.
+ Environmental Qualifications
SkyLine Cloud-Based C2 Compatible
Available with an integrated ISM band radio or upgradable to SkyLink for C-band protected-spectrum. Connect to skyStation2 ground radios for reliable, scalable, cloud-managed BVLOS missions.
Detect and Avoid
(DAA) Ready
George is available with integrated ADS-B IN or by adding pingRX Pro to see nearby aircraft. For high altitude and mission-critical operations, add the ping200X Mode S Transponder with ADS-B to be seen by surrounding aircraft and for access to controlled airspace.
Hardened interfaces and power supplies
Level up from hobby-grade autopilots, with the same reliability and testing that ensures manned aircraft fly safely. All interfaces are subjected to extensive testing for normal and abnormal power conditions, lightning, and interference rejection. George is ready to meet your mission conditions.
George Models
For maximum flexibility and robustness, George is available in two models to accommodate both Group 2 and Group 3 UAS needs.
George Configurations
From prototyping to business and even the battlefield, George is ready to support your platform.
Mix and Match components to best meet your needs and satisfy local regulators.
A Complete Ecosystem of
Compatible Certified Solutions
George is plug and play with all uAvionix certified solutions.
Make your platform's safety case with type-certified aviation-grade avionics and ground infrastructure.
Optimized for VTOL
While George provides the flexibility of the Pixhawk platform, it's sweet spot is optimized for Vertical Takeoff and Landing (VTOL) Fixed Wing platforms – the most flexible and energy-efficient combo to emerge in aviation in over a century.
Contact Us
Get to know George
Contact us for more information, quotes, or to learn more about George and the vast integrations for your UAS platform.
Are you a CubePilot reseller?
Click here to use your referral code to access reduced pricing.