Integrated all-in-one 1090MHz ADS-B, GPS, and Baro
The world's smallest and lightest ADS-B solutions for sUAS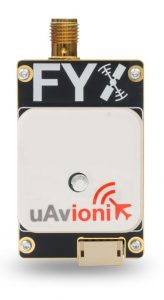 ping1090i:  The world's smallest ADS-B transceiver is now the easiest to install
ping1090i is the world's smallest, lightest and most affordable full range, dual-link ADS-B transceiver. At just 20 grams, it implements 'Sense and Avoid' for Drone operations in the national airspace. ADS-B-In on both 1090ES and 978UAT. ADS-B-Out on 1090MHz at 20W nominal output.  No deviations from the Minimum Performance Standards of DO-260B Class A0 apart from minimum transmit power.
ping1090i offers an easy to install, all-in-one ADS-B solution, combining the ping1090 with the FYXnav GPS and an integrated baro.  Ping1090i keeps the same small footprint of the original ping1090 adding just 2mm in height and 5 grams of additional weight.  Ping1090 offers turn-key ADS-B on 1090MHz out for sUAS at an incredible 25 grams.
ping1090i is an approved ECD for use on sUAS in the UK.  Visit the CAA page for more information on CAP-1391 and electronic conspicuity.

Detects commercial aircraft threats on 1090MHz and 978MHz within a 100 statute mile radius in real time

Reports threats from commercial aircraft in a programmable spherical radius

Transmits ADS-B on 1090MHz, 20W nominal

Meets MOPS DO-260B Class A0 except for minimum power

Integrated navigation source (GPS and Baro)
Documentation & Support