The original 1090MHz ADS-B transceiver for sUAS
Integrated all-in-one ADS-B, GPS, and Baro
The world's smallest and lightest ADS-B solutions for sUAS

Ping1090 is the world's smallest, lightest and most affordable full range, dual-link ADS-B transceiver. At just 20 grams, it implements 'Sense and Avoid' for Drone operations in the national airspace. ADS-B-In on both 1090ES and 978UAT. ADS-B-Out on 1090MHz at 20W nominal output.  No deviations from the Minimum Performance Standards of DO-260B Class A0 apart from minimum transmit power.
Ping1090 is the first and only approved ECD for use on sUAS in the UK.

Learn more about CAP 1391 and Electronic Conspicuity Devices here:  CAA CAP 1391 ECD
In short, an ECD broadcasts the host aircraft position to other aircraft operating the airspace.   EC devices turn the traditional 'see and avoid' concept into 'see, BE SEEN, and avoid'.
Detects commercial aircraft threats on 1090MHz and 978MHz within a 100 statute mile radius in real time

Reports threats from commercial aircraft in a programmable spherical radius

Transmits ADS-B DF-18 on 1090MHz, 20W nominal

Meets MOPS DO-260B Class A0

Navigation Source (GPS and Baro) FYXnav-B option

GDL90 combined UAT and 1090ES traffic reports

US Patents Pending
Documentation & Support
Ping1090i:  The world's smallest ADS-B transceiver is now the easiest to install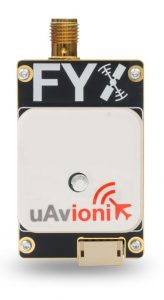 Ping1090i offers an easy to install, all-in-one ADS-B solution, combining the ping1090 with the FYXnav GPS and an integrated baro.  Ping1090i keeps the same small footprint of the original ping1090 adding just 2mm in height and 5 grams of additional weight.  Ping1090 offers turn-key ADS-B on 1090MHz out for sUAS at an incredible 25 grams.
Detects commercial aircraft threats on 1090MHz and 978MHz within a 100 statute mile radius in real time

Reports threats from commercial aircraft in a programmable spherical radius

Transmits ADS-B on 1090MHz, 20W nominal

Meets MOPS DO-260B Class A0 except for minimum power

Integrated navigation source (GPS and Baro)
Documentation & Support