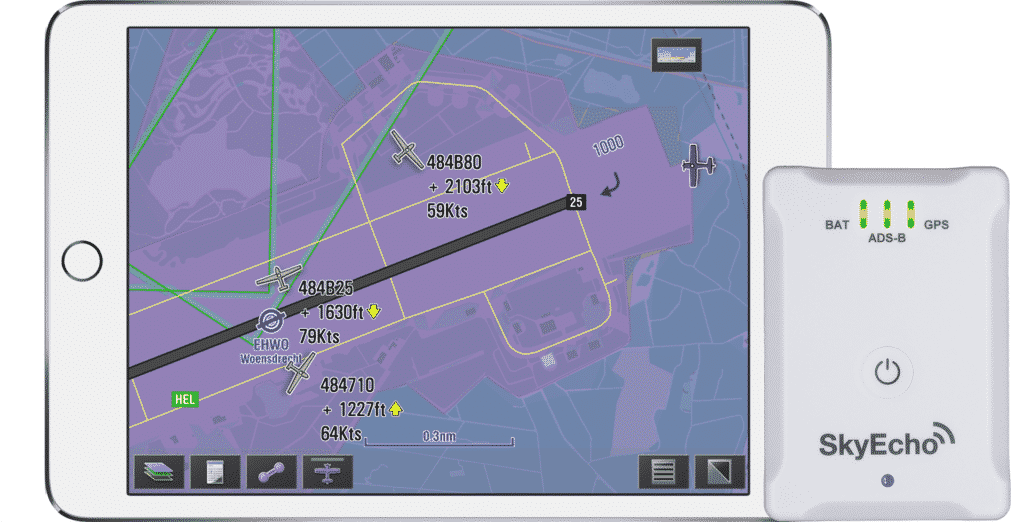 Friedrichshafen, Germany – April 8, 2019
uAvionix, designer and manufacturer of the SkyEcho 2 Electronic Conspicuity (EC) device, and PocketFMS, producer of the popular EasyVFR European Electronic Flight Bag (EFB) app, announced this week at the Friedrichshafen Aero an introduction of FLARM™ reception and transponder proximity alerts when SkyEcho 2 and EasyVFR 4 are used together.
EasyVFR 4, currently in beta and planned for commercial release Q2 2019, will integrate with SkyEcho 2's native capabilities to receive ADS-B, FLARM, and, for the first time, alert pilots if an aircraft is nearby with only a Mode C or S transponder. The Basic, Standard and Frequent Flyer licenses all will allow users to purchase a FLARM subscription for FLARM target depiction on the EasyVFR SmartMap. Three new areas of EC functionality are being introduced:
FLARM Proximity Alerts require no FLARM license or extra cost to the user.  These notifications alert the pilot of a nearby FLARM aircraft, but provide no bearing, altitude, or distance.  FLARM proximity alerts are available in all levels of EasyVFR 4.
Full FLARM Reception will depict the FLARM on the EasyVFR 4 SmartMap traffic display.  FLARM reception is available in the Basic, Standard and Frequent Flyer subscription levels at an additional yearly subscription.
Transponder Proximity Alerts provide a bearingless alert for multiple nearby aircraft equipped with a Mode C or S transponder.  The intruding aircraft relative altitudes are displayed.  Transponder proximity alerts are available at no additional cost in EasyVFR 4.
Rob Weijers, CEO at PocketFMS, states: "In one single, very convenient package, uAvionix deliver with their SkyEcho 2 an all-in Electronic Conspicuity solution at an unbeatable price. We're amazed how they manage to create such physically compact yet technologically highly advanced devices!"
"The integration of SkyEcho 2 and EasyVFR represents the most comprehensive Electronic Conspicuity solution available," said Christian Ramsey, uAvionix President. "EasyVFR 4 promises to be an outstanding solution for an incredible value, uAvionix are proud to work with the great team at PocketFMS."
Visit uAvionix and PocketFMS this week at Aero Friedrichshafen.  PocketFMS is located at the front of Hall A6, and uAvionix at the front of Hall A7.