This is a jam-packed newsletter full of BIG NEWS. Grab a cup of coffee, here is what's in store:
skyBeacon STC data package accepted by FAA with 272 aircraft AML
Shipping by the end of November
How to get skyBeacon installed
Wingtip fairing adapters
tailBeacon update
Starboard options – skyLight and skySensor
STC Data Submitted to FAA
We keep on learning. Our initial STC flight turned up an issue we hadn't previously discovered. It's resolved now, but it resulted in a TSO minor modification, subsequent test flights, and finally another STC flight. Despite rumors or speculation to the contrary, the delay has been of our own making, and has nothing to do with our dispute with a competitor. The data package has been accepted by the FAA and we are now awaiting signatures.
Check out the STC flight path on the right.
During that two month period, we've received thousands of calls, emails, and social media posted questions asking for status. Also during that period, 
FAA relaunched its $500 rebate program
 – which just ratcheted up the intensity of the inquiries.
Thank you for your patience. We are confident it will be worth the wait. The wait is nearly over.
How do I Install skyBeacon?
What's the AML?
Will it fit on my…….?
Close behind the mass of questions regarding our shipping dates, installation and fitment questions are a very close second.
Which aircraft are covered by the STC?
Surprise! The STC will include an extensive Approved Model List (AML), containing 272 aircraft models from Cessna, Piper, Beechcraft, American Champion, Maule, Boeing, Swift, Mooney, Aviat, and others. This is the single largest AML for any UAT ADS-B solution.
The full AML can be accessed 
here
.
What if my aircraft is not on the AML?
Good news! Under FAA Memo titled " Installation Approval for ADS-B OUT Systems, " the FAA explains that after an STC is achieved for ADS-B OUT equipment, additional installations can be accomplished with an A&P with Inspection Authorization (IA) so long as the installation does not require airframe modification. This process requires completion of a form called FAA Form 337 MAJOR REPAIR AND ALTERATION. We are providing guidance with a sample skyBeacon Form 337 here a nd will post on our website once we begin shipping to make the process easier. We have more info on this on our FAQ on the skyBeacon product page. Also see the sidebar from an article from AEA in Avionics Magazine.
OK, but WILL IT FIT ON MY AIRPLANE?
This is the generally the hardest question to answer, since we don't have the details of every aircraft wingtip shape out there, and we don't know if your aircraft has been modified with upgraded wingtips, etc.
We need your help with this one. We have provided a to-scale 
mounting template
. Print it out and check for yourself, then please let us know if it works for you, so we can answer the question for the next pilot.
We do have some additional adapters to make skyBeacon more applicable to more aircraft with our wingtip fairing adapters. See more on this in the next section below.
Finally, take a photo, post on social media, and tag it with #beaconinstalls and #screwadsbonyourwing to help us show off!
Wingtip Fairing Adapters
In order to make skyBeacon more accessible to more aircraft – we've developed two wingtip fairing adapters. These adapters aren't quite ready to ship just yet, but will be available shortly for only $100 each. We expect to be shipping these by the end of the year.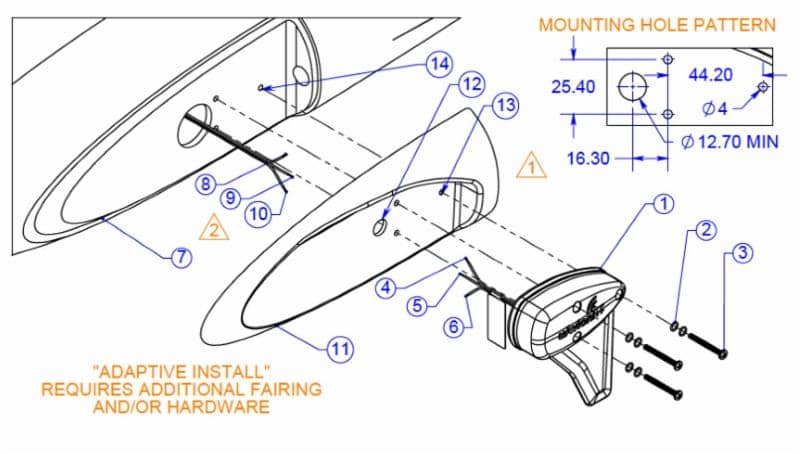 What about tailBeacon???
One thing we've learned from all of your questions, is that tailBeacon is going to be very popular. One reason for this is that there is some uncertainly of whether skyBeacon will fit your wingtip, and a second reason is that you may be looking for symmetry with a matching right-side light.
We've tried to address both items in this newsletter. With the AML and fairing adapters, we have tried to address the fitment questions. See the next section for some news on our skyLight matching right side light.
tailBeacon IS coming but has been delayed due to the delays for skyBeacon. We've communicated previously that tailBeacon is a spin-off of the skyBeacon certification – so necessarily we needed to complete the STC first. tailBeacon is the next priority.
We still expect to achieve the tailBeacon TSO by the end of the year, but the STC will likely push into early Q1 of 2019. The STC can present some interesting challenges due to its installation on a control surface. We will get there, but if you are anxious about reserving your $500 rebate while the FAA funding still lasts – your best bet is to go with skyBeacon.
Finally, what about my starboard side options? I want a matching light!
We hear you. We've felt it most important to focus on the products that help you meet your mandate deadline, and we will be following up with starboard side options.
For the experimental/LSA aircraft owners – we already offer 
skySensor 
– a starboard side ADS-B IN receiver and position/strobe light. Currently these are available 
online 
and through our resellers.
We will not be certifying skySensor, but we will be producing a certified starboard side matching light called skyLight in Q1. We will be offering bundle pricing but will extend the discount to customers who have already purchased skyBeacon. Reserve your rebate, get skyBeacon installed – don't wait for skyLight – we'll get it taken care of for you.