skyBeacon
Simplest Solution to 2020 Compliance
The world's only wingtip mounted ADS-B OUT solution to meet the 2020 mandate. skyBeacon has the lowest installation cost and largest approved model list of any UAT ADS-B OUT solution.
Works with Your Existing Mode C Transponder
skyBeacon works with any existing Mode C Transponder.  uAvionix's patented power transcoder technology seamlessly communicates with your existing transponder over your aircraft's electrical system.
Remain Anonymous
Just because you are ADS-B equipped, doesn't mean you want to be tracked. With skyBeacon's Anonymous Mode, your aircraft identification remains hidden from the ADS-B OUT signal while squawking 1200. Anonymous Mode keeps the skies safe while protecting your privacy.
Self-Contained WAAS GPS
A built-in WAAS GPS provides skyBeacon with rule compliant position data for ADS-B transmission.  No additional wiring or external GPS antenna mounting is required.
LED Position and Strobe Light
Extremely efficient LED position and anti-collision lighting complete the skyBeacon package.
Position Lighting:  TSO-C30c
Anti-Collision:  TSO-C96a
Simply replace the aircraft position light, that's it! No airframe modifications or additional antennas are required. Plus, it works with your existing transponder. skyBeacon installation uses the existing mounting location, breaker, and wiring, with 3 screws and 3 wires. The transponder data is provided via the existing aircraft wiring system using the power transcoder.
Instant Setup and Configuration
Mechanically installing skyBeacon is the first easy step. With uAvionix's mobile app, configuration is just as simple. Our mobile application (available for both Apple iOS and Android) guides your installer through setting the necessary values including the ICAO address, emitter type, aircraft length, width and GPS offsets.
Wingtip Adapters
If your wingtip or lighting configuration is not supported by skyBeacon, you can purchase a fairing adapter kit for various aircraft.
301 fairing (left)
Fits the following Cessna aircraft:
150L, 150M
152
175C
180G, 180H
182F, 182G, 182H, 182J, 182K, 182L, 182M, 182N
185, 185A, 185B, 185C, 185D, 185E, A185F
P206E, U206E
302 fairing (left)
Fits the following Cessna aircraft:
172L, 172M, 172N, 172P, 172Q, 172R, 172S
172RG
177B, 177RG
180J, 180K
182P, 182Q, 182R, 182S, 182T, R182, T182, TR182
185, 185A, 185B, 185C, 185D, 185E, A185F
U206F, U206G
TU206F, TU206G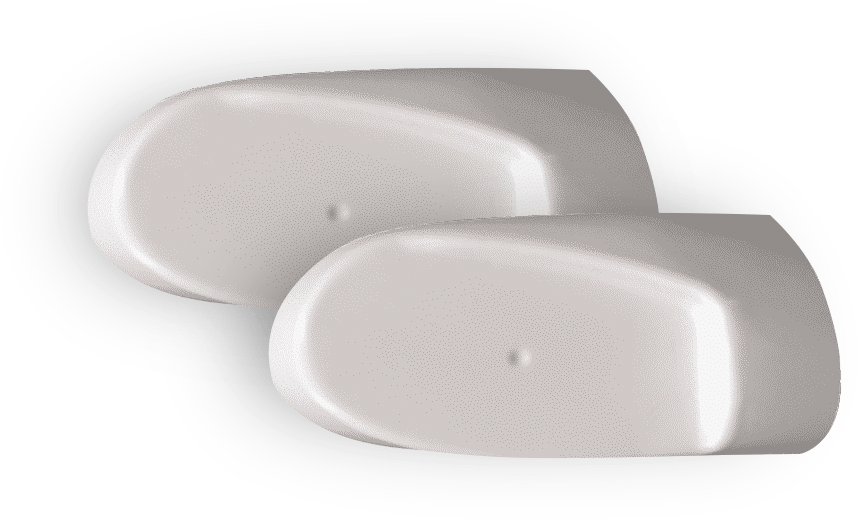 Specification
Value
Input Voltage
11-31V DC
Operating Power
3 watts
Size
124x116x48mm
Weight
90 grams
SDA/SIL
2/3
Operating Temp
-45°C to 80°C
978MHz UAT Transmitter
Power Classification
DO-282B Medium Power
WAAS GPS
Tracking
Reacquisition
Cold Start
-166dBm
-160dBm
-148dBm
LED Position Light
Color
Aviation Red
Intensity
40 candelas
Wi-Fi Configuration
Physical
802.11b/g/n
App Compatibility
iOS, Android
Power Transcoder
Decodes Mode A and C via Power Transcoder
skyBeacon app or password issues?
Zane Woodson
2020-04-20T15:13:26-05:00
If you cannot get the phone or tablet to connect to the wifi OR it says "Incorrect password" OR it is stuck on the opening page,
Please try these steps:
Turn off the power to the Beacon
Close ALL apps on your device (On Apple devices that involves swiping the app away and Androids require a Force close)
Turn on Airplane mode (This will turn off Wifi on most devices so you will need to turn it back on. The main reason for doing this is to stop cellular data from being transmitted and interfering with the lower power Wifi signal. If you have a newer Samsung phone, we have seen instances where the Bluetooth also needs to be turned off. )
Power on the Beacon product (You now have 5 minutes to connect to the Beacon before the wifi shuts off. Once connected it will stay active until you get airborne)
Open the wifi page of the smart device (Located under Settings for Apple devices and Connections for Android users)
When you see the Beacon-XXXX wifi SSID pop up, tap it and enter the passphrase EXACTLY as printed on the supplied card or sticker.
Wait until it shows connected (You will get a note about No internet connection. This is normal)
Now open the skyBeacon app, it will open to the Monitor page. Enter your aircraft information
If this is still not working, you may need to have the aircraft outside
Don't see the answer to your question? Feel free to contact us.